Well, we showed you a cemetery and some rocks at the Harmony Society's first home in Harmony, PA. So how about a few photos from a field trip to their last home, Old Economy Village in Ambridge, PA?
I am starting to think the Pennsylvania Historical and Museum Commission doesn't understand the idea of "informative signage." Between this and the Harmonist Cemetery marker they're batting 0-for-2.
This is the actual hat John S. Duss wore when conducting the Duss Concert Band. It is insane and I love it and I want one of my very own.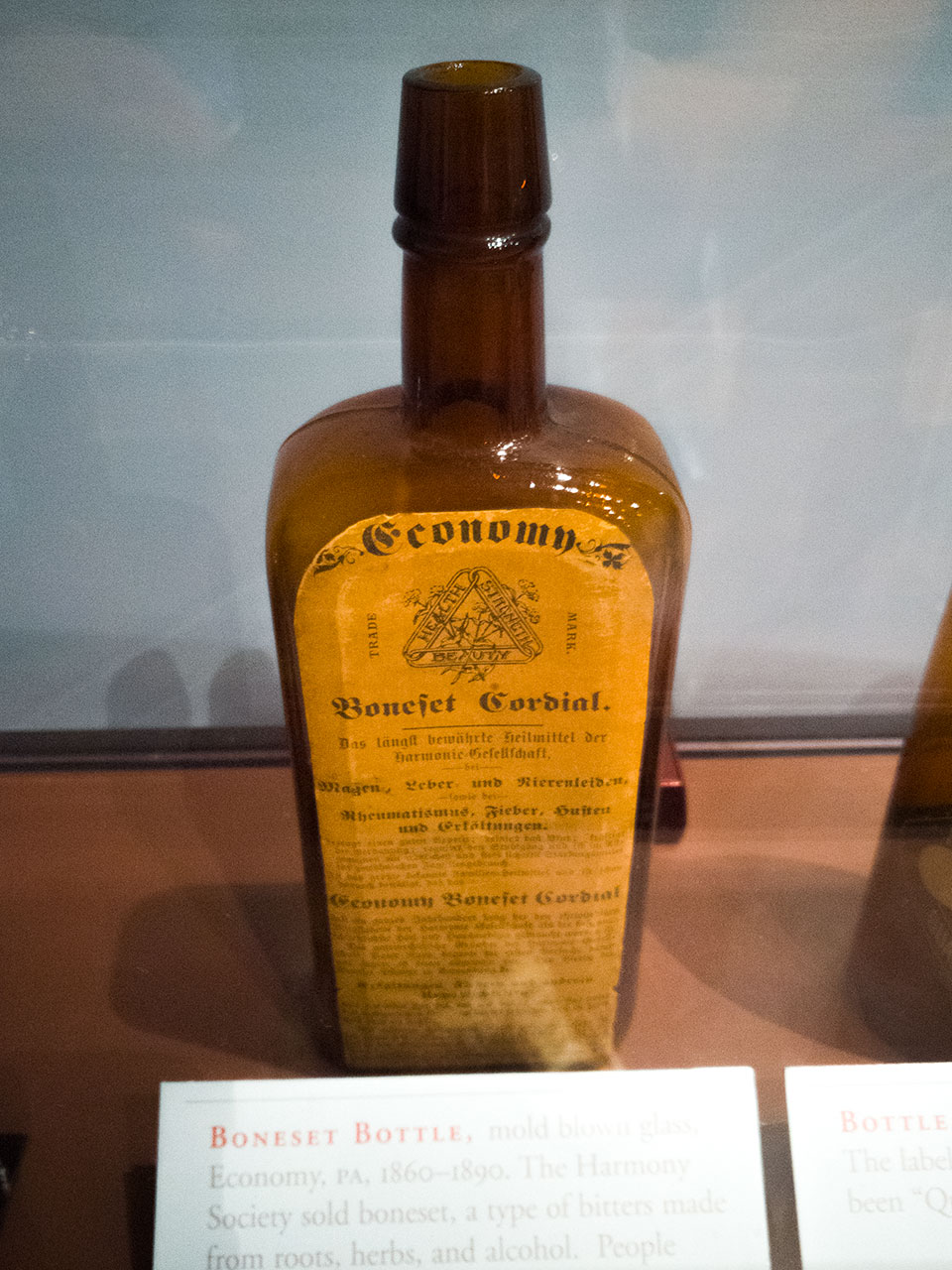 Some more exhibits from the museum.
On the left, a selection of silks from the Harmony Society mills, which were exhibited at the Philadelphia Centennial Exhibition in 1876 and which features the handiwork of Gertrude Rapp.
On the right, a bottle of Economy Boneset Cordial, one of the many spirits the Society marketed throughout western Pennsylvania and Ohio.
The upper floor of the feast hall, which could easily hold several hundred people for giant communal meals. In the Society's later days, members would eat in their private residences and the feast hall was only used for special occasions.
The Founder's House, where George Rapp lived, and later Jacob Henrici and John S. Duss. It's in remarkable condition. And no, they won't let you dig up the floorboards to see if any of the gold bullion is still there. (I asked.)
More building. My notes from this point are kind of incoherent but I believe that's the Frederick Rapp house in the foreground, and the Feast Hall in the background.
Finally, the church where George Rapp and Jacob Henrici preached. And where John S. Duss read prepared statements from his lawyers. It's still an active Lutheran church. Thanks to the separation of church and state, it's not actually part of Old Economy Village but they do coordinate with the state in planning special events and welcome visitors to see the gorgeously-restored interior.
If you're looking for a fun and educational afternoon, Old Economy Village definitely fits the bill. They also host events throughout the year, including concerts, a German Christmas market, period-authentic banquets, and more. It's open from April through December each year.
Published