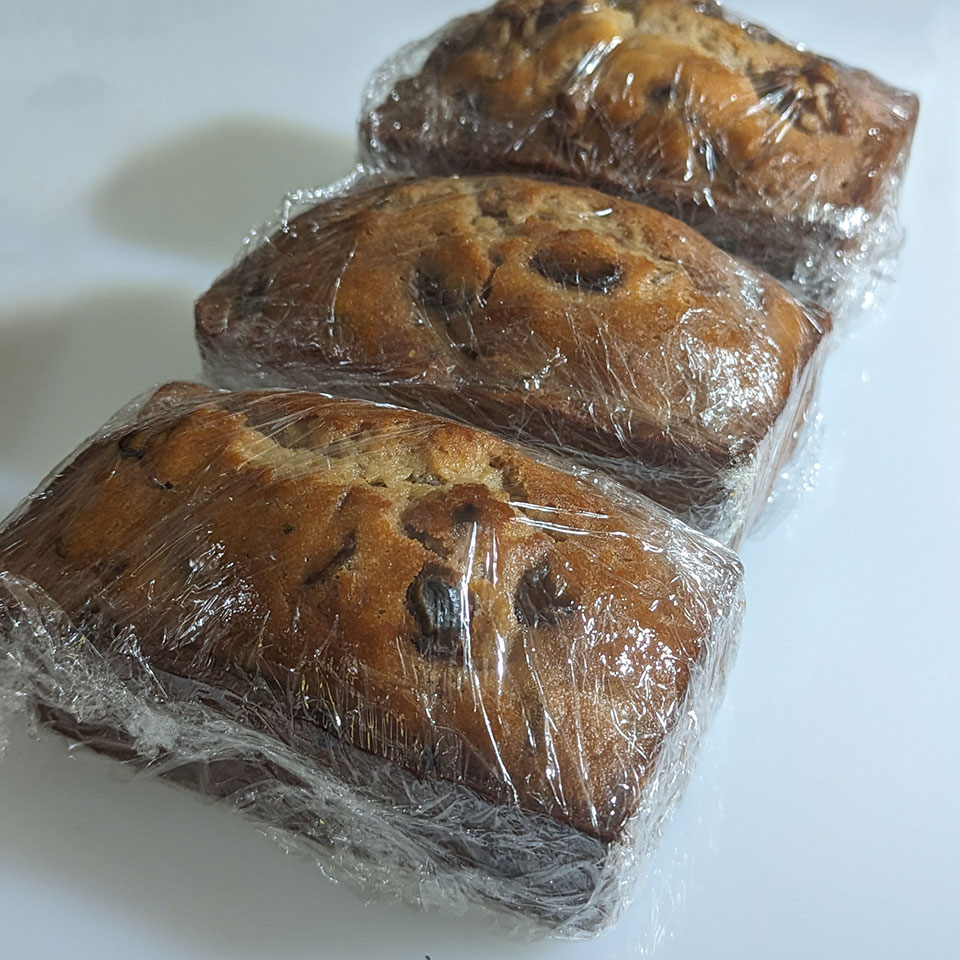 Fruitcake Subculture Conspiracy Revisited
Christmas's most maligned tradition strikes back
In the recent past, society took a turn and a once-beloved holiday tradition was transformed into a cruel joke almost overnight. So complete was this change that those who dare to defend the tradition are branded outcasts and pariahs, rejected and ridiculed by popular culture.
I'm talking about fruitcake, of course.
There are few traditions more traditional than fruitcake.
The Ancient Egyptians revered their fruitcake, a snack as eternal as death itself, and buried it with their dead to ensure their souls would always have something to eat in the afterlife. There's almost no evidence that the living enjoyed fruitcake… but they must have, right?
Roman fruitcake was more like a granola bar, a clump of dried fruits, nuts, and grains held together and sweetened with honey and was meant to be a snack for travelers on the go. It was especially popular with legionnaires, who would carry it with them into battle.
In Medieval times fruitcake evolved into lighter, sweeter versions like the Italian panforte and German stollen. In England they had plum porridge, a mince-and-fruit dish that slowly evolved into plum pudding after ditching the mince (which was actual meat back then).
What really turbo-charged fruitcake, though, was the European colonization of the Americas and the availability of cheap sugar. It turns out dried fruit was great, but dried candied fruit was even better and even longer-lasting. Sugar also made distilled spirits more popular, giving rise to variations like the Jamaican black cake, where the fruits are soaked in rum and wine as a preservative.
All that booze and sugar led dour Puritan types to decry fruitcake as a decadent sinful treat. They tried to outlaw it, but still allowed it to be served on important occasions, firmly cementing fruitcake as a dessert for the holidays. The expansion of the postal service in the Nineteenth Century turned fruitcake from a holiday treat into a holiday gift.
Queen Victoria's wedding cake was a fruitcake, which triggered a mini-fruitcake Renaissance. The Victorians also introduced the concept of storing fruitcake in alcohol-soaked cheesecloth.
By the Twentieth Century fruitcake had achieved its ultimate form: a sweet, dense cake enriched with candied fruits and nuts, encased in a coating of sugar syrup or alcohol (usually brandy, rum, or bourbon). A properly made fruitcake will last forever – the combination of low moisture and high salt combined with the preservative properties of alcohol and sugar crystals can keep bacteria at bay almost indefinitely.
Due to its longevity, fruitcake is often seen as an ideal ration for soldiers and explorers. A fruitcake carried to Antarctica by Robert Falcon Scott was rediscovered in 2017 and pronounced "almost edible" by the Antarctic Heritage Trust. With a little TLC, it could be entirely edible – a family in Tecumseh, MI has been carefully maintaining the same fruitcake since 1878 and by all accounts it seems to be fine.
The Apollo astronauts took fruitcake to the moon, but they didn't actually eat it and who can blame them? NASA used to coat cake-y foodstuffs in gelatin so that free-floating crumbs wouldn't short out their electrical systems. It would have been an ingenious solution if it didn't also make the encased items unappetizing. Eventually the space food experts in Houston were able to iron out the kinks; the astronauts on Skylab enjoyed fruitcake as a Christmas treat, and the Apollo-Soyuz mission shared slices of fruitcake – a true milestone in interplanetary diplomacy.
The Decline and Fall of Fruitcake
So when did people start turning against fruitcake?
Fruitcake has always had its detractors – those unnamed Seventeenth Century Puritans, for instance – but they were clearly in the minority. By the 1950s fruitcake was as American as apple pie and just as beloved, an attitude captured in Truman Capote's short story "A Christmas Memory" – a soulful reverie to making and gifting fruitcakes at the holidays.
Those magical fruitcakes of Truman Capote's Depression-era childhood were starting to disappear, though. An increasingly urbanized population had limited access to dried and preserved fruits, and while industrialized food concerns tried to step up and fill the void their dried fruits were as flavorless as they were garish. It's hardly surprising that many people stopped making fruitcake at home and made do with factory-made monstrosities pumped full of chemical stabilizers to compensate for the fact that they were alcohol-free. Fruitcake quickly became stereotyped as, "overly soused, filled with Technicolored glacéed morsels, chunked up with acrid citrus, brick-like." (Lisa Yockelson, "Fruitcake Without Remorse")
For decades the popularity of fruitcake declined. And then Johnny Carson made a throwaway joke on the November 22, 1978 edition of The Tonight Show.
The worst gift is a fruitcake. There is only one fruitcake in the entire world, and people keep sending it to each other.
In these days of fractured media it's hard to understand exactly how much of a tastemaker Carson was, but when he spoke, America listened. Fruitcake haters had previously remained silent, but now they spoke out in ever-greater numbers. It wasn't long before the public's opinion of fruitcake had flipped and hating fruitcake was the norm.
"To me fruitcake means doilies, fruit punch, saucers on knee, proper ladies, and Red Cross Christmas parties. It has little good going for it."

Lin Brown, "On Hating Fruitcakes"
"You know me, I'll eat anything. But if I had to hate anything, I'd hate fruitcake."

Ann Marie Lipinski, "Fruitcake? A Christmas Curse"
Fruitcake's most famous detractor is New Yorker writer Calvin Trillin…
"There's nothing dangerous about fruitcakes as long as people send them along without eating them," I said, in the nicest sort of way. "If people ever started eating them, I suppose there might be need for federal legislation."

"How about people who buy fruitcakes for themselves?" he asked.

"Well, now that you mention it," I said, "nobody in the history of the United States has ever bought a fruitcake for himself. People have bought turnips for themselves. People have bought any number of Brussels sprouts for themselves. But no one has ever bought a fruitcake for himself. That does tell you a little something about fruitcakes."

"Are you saying that everybody secretly hates fruitcake?" he asked.

"Well, it's just a theory."

Calvin Trillin, "A Fruitcake Theory"
For my money it's hard to beat this limerick from John Bertschi…
The fruitcake I got was bizarre
It was shaped like a brick — or a bar
I won't say it was old
But I scraped off the mold
And I found it stamped S.P.Q.R

John Bertschi, "That Perennial Gift"
It wasn't long before fruitcake was a joke, a perennial pop culture punching bag. They even started indoctrinating our kids with books like Junie B. Jones and the Yucky Blucky Fruitcake.
In 2003 a food bank in Buffalo, NY announced a Fruitcake Amnesty Program, where they would accept any unopened fruitcakes from unwilling recipients, with the idea being that they would then be redistributed to needy families throughout the region. To drum up attention for the program, they sponsored an IFOCE-sanctioned eating contest where "The Black Widow" Sonya Thomas set a world record by consuming 4 lbs. 14¼ oz. of fruitcake in ten minutes. It was the start of a great run for Thomas, who became the first woman to win the Wing Bowl the following month and broke the record for most hot dogs eaten at the Nathan's Hot Dog Eating Contest on July 4th. Her fruitcake record remains unbroken to this day – largely because the response to the Fruitcake Amnesty Campaign was underwhelming. Even needy families didn't want a free fruitcake.
So, what to do with an unwanted fruitcake? Well, if it's the first Saturday in January you can always schlep on down to Manitou Springs, CO for the Great Fruitcake Toss. There are prizes for distance, accuracy, and more. Be sure to bring your "A" game because everyone else will be playing for keeps – in 2007 a team of engineers from Boeing built a fruitcake cannon that hurled their fruitcake a quarter of a mile. Tossed fruitcakes are turned into animal feed, since animals are less picky than hungry Buffalonians.
The Fruitcake Underground
Anti-fruitcake feeling is so pervasive that those with differing views have been forced to quietly seek out others who, like them, still appreciate the fruitcake. A fruitcake subculture was formed and, thanks to the Internet, began to quietly spread.
It may surprise you how many people are in the Fruitcake Underground. Just tell a fruitcake joke to your friends and carefully watch their reactions. Odds are one or more of them will be laughing nervously, trying to blend in without making a scene, wondering if anyone will ever come to the rescue of the defamed fruitcake.
We are slowly winning the battle, though. Right now, someone somewhere (maybe even someone you know) is enjoying a dense, moist piece of fruit-and-nut-laden, spirit-drenched cake behind closed doors, and probably feeling a little guilty about it. The moment is rapidly approaching when the movement will come out of hiding. Fruitcake is about to become the next great thing in the world of special occasion food items.
That's right, fruitcake is on its way back in, so grab some fruitcake recipes and let's go! It's almost conspiratorial the way everything is falling into place. Have you noticed the abundance of dried fruits available in your local markets these days? Not the nuclear green candied fruit-like substances of yesteryear, but real dried fruits like apricots, blueberries, dates and plums. There are even dried fruits you'd never heard of a decade ago – craisins, goji berries, açai. They are even putting them in the cereal to get you acclimated to them.
There are excellent gourmet fruitcakes from Texas's Collin Street Bakery, Georgia's Claxton Bakery, and Kentucky's Gethsemani Farms, but people still aren't trying them. So the next step is to gain broad acceptance by changing the name. Let's face it. The term "fruitcake" has all kinds of negative associations. But what about Jack Daniels Bourbon Cake? Or Meyer's Rum Cake? Yesterday, I saw the first of these commercially marketed fruitcakes in the holiday section of the gourmet grocery store in my town.
What can you do to stop us? Nothing. It's too late to try – we've already come too far.
So just embrace it; give it a try. Who knows, you may actually like some of these cakes. The new cakes blend the best of the new with the best of the old. Gone are the crazy candied fruits, and "in" are the modern dry fruits. Don't hide it in your closet anymore. Dice it up into small squares and dip it into chocolate for a delicious treat. You can even try warming your fruitcake in the oven – the candied fruits will release some of their moisture and re-moisten the fruitcake, or so I've been told.
With the outstanding shelf life built into a fruitcake, what do you have to lose?
Basic Fruitcake (Serves 8)
1/3 cup chopped dried cherries
2/3 cup dried cranberries
2/3 cup currants
½ cup plus 2 tablespoons light rum
2 cups all-purpose flour
½ teaspoon baking powder
¼ teaspoon salt
½ teaspoon ground cinnamon
8 tablespoons butter
¾ cup packed brown sugar
2 eggs
2 tablespoons milk
¼ cup un-sulfured molasses
2/3 cup chocolate chips or chopped pecans
In a plastic container or zip-lock bag, soak the dried fruit in ¼ cup of the rum for at least a day, covered tightly and at room temperature.
Then preheat the oven to 325 degrees F. Butter and line a 6-inch round pan or 4 x 8½ inch loaf pan with parchment paper.
Whisk together the flour, baking powder, salt and cinnamon. Cream the butter and sugar until fluffy and add the eggs, one at a time. Add the flour in three batches, alternating with the milk and molasses. Stir in the fruit/rum mixture and chocolate and/or nuts.
Pour into prepared pan and bake for 55 minutes to 1 hour. Let cake cool in the pan for 10 minutes, then sprinkle with 2 tablespoons of rum.
Place a piece of parchment paper, large enough to wrap entire cake, on a flat surface. Moisten a piece of cheesecloth, large enough to wrap the cake, with 1-tablespoon rum. Place the cheesecloth on top of the parchment paper, and unmold the cake on top of it. Sprinkle the top and sides of the cake with the remaining rum. Wrap the cake, pressing the cheesecloth closely to the surface of the cake. Place the cake in an airtight tin (or plastic container, and let age for at least 4 weeks. If storing longer, douse with additional rum for every 4 weeks of storage.
Tropical Fruitcake: Substitute the following fruit; 2/3 cup dried pineapple cut into small chunks, 2/3 cup diced mango, 1/3 cup diced papaya, 1/3 cup coconut, 2/3 chopped macadamia nuts and use Malibu rum instead of regular rum.
Berry Berry Fruitcake: 2/3 cup dried strawberries. 2/3 cup dried raspberries. 1/3 cup dried blueberries. 1/3 cup currants, 1/3 cup dried cranberries and use Kirsch (cherry flavored liqueur) instead of rum.
Southern Delight Fruitcake: 2/3 cup dried diced peaches, 2/3 cup dried blueberries, 2/3 cup chopped pecans and use a good Whiskey or Bourbon.
Sources
Abrahams, Marc. "Military Experiments on Fruitcake (Part 1: 1981). Improbable Research, 23 Dec 2011. https://improbable.com/2011/12/23/military-experiments-on-fruitcake-part-1-1981/ Accessed 7/26/2023.
Abrahams, Marc. "Military Experiments on Fruitcake (Part 2: 1982-4). Improbable Research, 23 Dec 2011. https://improbable.com/2011/12/23/military-experiments-on-fruitcake-part-2-1982-4/ Accessed 7/26/2023.
Bertschi, John. "That Perennial Gift." The Classical Outlook, Volume 70, Number 3 (Spring 1993)
Brock, Wendell. "Sweet as Sugar, Rude As Hell." Bitter Southerner. https://bittersoutherner.com/sweet-as-sugar-rude-as-hell Accessed 7/28/2023.
Capote, Truman. "A Christmas Memory." The Complete Stories of Truman Capote. New York: Vintage International, 2004.
Goodman, Mary Beth. The Society for the Protection and Preservation of Fruitcake. https://mbgoodman.tripod.com/fruitcake.html Accessed 7/24/2023.
McGee, Harold. On Food and Cooking: The Science and Lore of the Kitchen. New York: Scribner, 2004.
Park, Barbara. Junie B. Jones and the Yucky Blucky Fruitcake. New York: Random House, 1995.
Schreiber, Jason. Fruit Cake: Recipes for the Curious Baker. New York: HarperCollins, 2020.
Shackle, Eric. "Fruitcakes and Fruitcakes." Life Begins at 80… on the Internet. http://bdb.co.za/shackle/articles/fruitcakes.htm Accessed 7/26/2023.
Sibole, Dorothy. "Fruitcake Subculture Conspiracy." Texas Cooking. https://www.texascooking.com/features/nov2002makingfruitcakerecipe.htm Accessed 6/24/2023.
Trillin, Calvin. "A Fruitcake Theory" in Cashion, David (editor). The Dreaded Feast: Writers on Enduring the Holidays. New York: Abrams Image, 2009.
Vine, Katy. "Just Desserts." Texas Monthly, (January 2016). https://www.texasmonthly.com/true-crime/just-desserts/ Accessed 9/8/2023.
Warren, Glenn. "Fruitcake." Seasons Eatings Podcast, 2022 Jan 5. https://seasonseatingspodcast.libsyn.com/seasons-eatings-fruitcake Accessed 8/29/2023.
Yockelson, Lisa. "Fruitcake without Remorse." Gastronomica, Volume 7, Number 4 (Fall 2007).
"7 Things You Didn't Know About Fruitcake." Tastemade. https://www.tastemade.com/articles/7-things-you-didnt-know-about-fruitcake/ Accessed 9/2/2023.
"Fruitcake." Wikipedia. https://en.wikipedia.org/wiki/Fruitcake Accessed 7/25/2023.
"History of Oral Health: The Origins of Fruitcake." Grin! https://www.grinmag.com/archive/en/ddpa/2020/winter/fun-inspiration/history-of-fruitcake/ Accessed 9/1/2023.
"Letters from Our Readers." Archaeology, Volume 71, Number 2 (March/April 2018).
"Records." Major League Eating. https://majorleagueeating.com/records/ Accessed 7/26/2023.
"Thomas Wins by a Bite." Major League Eating, 2003 Dec 29. https://majorleagueeating.com/articles/52 Accessed 7/27/2023.
"The Infamous Fruitcake Joke." Collin Street Bakery, 4 Oct 2021. https://collinstreet.com/blog/johnny-carsons-infamous-fruitcake-joke Accessed 9/28/2023.
"Why Do We Give Fruitcake at the Holidays?" Christmas Central. https://www.christmascentral.com/resources/christmas-traditions/why-do-we-give-fruitcake-during-the-holidays/ Accessed 9/24/2023.
"The mammoth cake." Daily Free Press, 26 Sep 1856.
"Christmas fruitcake of the time of William the Conqueror." New York Tribune, 30 Nov 1897.
Malmin, Ann. "Fruitcake hater." Ventura County Star-Free Press, 24 Dec 1959.
Brown, Lin. "On hating fruitcakes." Fremont Argus, 1 Dec 1971.
Lipinski, Ann Marie. "Fruitcake? A Christmas curse." Chicago Tribune, 11 Dec 1978.
Pearce, Sarah. "Exploding the fruitcake myths." Cincinnati Enquirer, 7 Nov 1984.
Pearce, Sara. "Several places offer fruitcakes without those 'yucky' fruits." Cincinnati Enquirer, 14 Nov 1984.
Kuyper, Diana. "You're not nutty for liking fruitcake: much-maligned holiday confection get thumbs-up." Northwest Herald, 7 Dec 2003.
Edwards, Sue. "Fruitcake making a comeback." Kitsap Sun, 8 Dec 2004.
"Nicaraguan bakery sets Guinness Record for World's Largest Fruitcake." Fox News, 19 Nov 2013.
Links
Categories
Tags
Published
First Published:
Last Edited: